Stain resistant, linen-blend fabric and removable cushion covers mean you can go ahead and live a little.
The subtly textured, neutral White Linen hue adds warmth and ease into any living space.
Customer Reviews
Write a Review
Ask a Question
Filter Reviews:
replacement
feathers
cream colour
Brie
linen
cloud
company
delivery
quality
11/09/2021
Lillian A.

Canada
Movie Night Sofa
Like falling into the perfect fluffy cloud ☁️
10/06/2021
Ashley L.

Canada
Movie Night
Very happy with our our big, comfy couch!
10/04/2021
Natalie M.

Canada
Movie Night Ottoman Review
I have really enjoyed buying pieces from Sundays Furniture, they are always so helpful and the delivery service they use always puts the furniture together and removes the excess packaging. Their furniture is great quality and super comfy. This piece was exactly what I needed to complete my movie night sectional!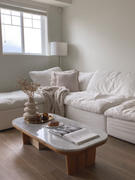 09/15/2021
Brianne C.

Canada
Best thing ever
Worth every Penny! Quality is phenomenal and we are very happy with the purchase
09/03/2021
Taylor M.

Canada
Love this Couch!
I absolutely love this couch and how comfy it is!! Hands down the best purchase we have made since moving into our new house.
08/28/2021
Kelly B.

Canada
Comfiest Sofa Ever
Not only do we get compliments everytime someone sees this sofa but it is truly comfortable. We got the biggest one and it is huge! Perfect for a big house. We love it. ❤️
08/27/2021
Samantha B.

Canada
08/22/2021
Ebony L.

Canada
White not white
Appears to be good quality for the price. The blended fabric/feathers feel more crunchy vs soft and fluffy. I'm hoping it will break in more. As for the colour, white linen is by no means white. It is a cream colour. If you are decorating in white you should get the Brie. That said, the company is quick to offer a replacement if you aren't happy and delivery was great!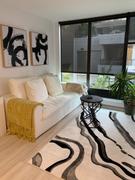 11/10/2021
Sundays Company Canada
Thank you for taking the time to leave a review, Ebony. We have recently changed the name of White Linen to Cream Linen to better reflect the true colour. We are so glad to hear that you are enjoying your Movie Night Sofa!
08/17/2021
Alysha K.

Canada
Love!
Comfy and functional! Absolutely adore how this looks in our home and with a 4 year old and the occasional dog visitor the removable slip covers are 100% essential! Wish there was a way to actually attach the footrest/ottoman so it didn't slip and was more a part of the couch but overall would purchase again and will recommend Sundays to everyone!
08/14/2021
Natasha F.

Canada
Love this couch
I bought, and ended up returning, the 5 - piece sectional movie night. I highly recommend this couch for appearance and comfort. My goodness, it truly is like sitting or laying on a cloud that is hugging you! All of my friends and company couldn't get over how comfortable and big it was. It is very large and I think that's part of the comfort. The only reason that I returned it was because it truly is a movie night couch. I purchased it for my living room and realized upon receiving it that I actually needed a couch that was more upright. This couch would be perfect for tv watching and lounging, but I wanted a couch for girls nights with wine and appetizers. It's not easy to get up from this deep couch and my friend actually spilled coffee on it trying to stand up because it's so deep! That's another positive- I purchased the linen white colour and the coffee didn't even touch it. We wiped it up right away and the couch seemed to be almost waterproof so it just beaded on top, leaving zero evidence of black coffee! Lastly, the customer service at Sundays is the best I have ever experienced. I was not an easy customer (I had multiple phone conversations and emails before I decided to return it). The team was so prompt, polite and understanding. I will absolutely be making future purchases from here for that reason alone. I highly recommend this company!
08/10/2021
Sabrina K.

Canada
Movie night couch
We love the couch so much. It is made of quality material and fits our room perfectly. Would highly recommend.
07/28/2021
Margie D.

Canada
Sunday's for all days!!
Absolutely love this sofa!! Everything about it is so inviting.. it's gorgeous, so comfy and truly gives you a feeling of being in the clouds in California!!!! Ps .. I'm obsessed with California .. and this sofa!! I Will be buying another plus I loved how fast they delivered it!! Even during Covid!!
07/27/2021
Jimena P.

Canada
I recommend this product
Love it!
Great service and comfy cocuh
07/08/2021
Ebony l.

Canada
Movie night sofa
Delivery was great and the guys set it up in place, taking away all the packaging it came in. I ordered the white linen and was surprised that it actually appears more cream in colour. Perhaps the Brie is more the "white option". Luckily this colour still works ok for me. The fabric is not actually soft to touch, more scratchy/stiff than I anticipated. I'm hoping it softens up with more wear in. Overall, quality seems good.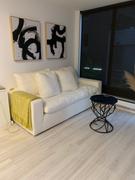 07/21/2021
Sundays Company Canada
Hi Ebony, Thank you for your review! We are happy to hear that you enjoyed our complimentary White Glove Service. We've sent you over an email regarding further details of our Movie Night Sofa. We look forward to hearing from you!
07/04/2021
Nayarit S.

Canada
Nap Trap
This couch is SO comfortable. I honestly have trouble staying awake while I'm on it.
06/21/2021
Chad K.

Canada
Best. Purchase. Ever.
We're not actually exaggerating - this is one of the best purchases we've ever made. My partner and I both have chronic illnesses that leave us mostly bedbound / couchbound, so we spend 90% of our waking hours on our couch. We researched many (many, many!) sectionals, and we're so (so,so!) happy we ordered this sectional from Sundays. The quality of construction and materials is excellent, and the delivery service was stellar! And don't get us started on how comfortable it is... it's cozy and snug, both of us can stretch out completely, and it's affectionately referred to as "the nest" by us, our families, and our friends.