Piping along the edges provides an element of thoughtful detail, while a lower back keeps it modern and cool.
Build it how you like: each piece connects with alligator clips and can be mixed and matched to suit your needs.
Customer Reviews
Write a Review
Ask a Question
08/15/2021
Elena P.

Canada
Sofa
The best furniture I've ever had
08/15/2021
Elena P.

Canada
I'm 100% satisfied Love it.
07/28/2021
Hallie R.

Canada
Incredibly comfortable
I bought this couch online -sight unseen- and I could not be more pleased with the comfort, style and quality! One of the best online purchases I've ever made and the most amazing customer service
07/27/2021
Hae L.

Canada
07/19/2021
Josiane M.

Canada
Beautiful style
First I should say that I bought this sofa sight unseen during COVID. It was not gifted to me as it seems many of the reviews here may have been (same talking points about toss cushions and spills etc). I wanted to support a local company and I was impressed with the designs offered by Sundays. I had been looking for a clean-lined, modern (and large!) modular sofa without too much bulk. Surprisingly hard to find sofas of this style! I love that it's low, streamlined, looks put together without needing to constantly fluff or straighten the cushions. The fabric is a nice soft felt that looks nicer and thicker in person than in the photos. Time will tell how it wears and if it pills or fades, so far a couple months in it still looks good despite a dog and toddler climbing on it. However, I'm unsure about the cushions and their durability. There is no spring or rebound of any sort, it's fairly firm and when you sit you kind of just stay perched on the surface, I wish there was a bit more give and coziness to it. It's comfortable, but not as cozy as I had hoped. My biggest concern is that when you stand up, the seat cushions stay indented. I hope that over time they don't get a saggy appearance, since the whole appeal of this sofa is the clean, taught cushion look. Overall, I am happy with the sofa, delivery was easy and they cleaned up and took all the boxes with them, and I'm happy to be supporting a Canadian business. Hoping their warranty will stand up if needed down the road if the fabric or cushions don't last. Thanks Sundays!!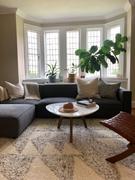 07/21/2021
Sundays Company Canada
Hi Josiane, Thank you for taking the time to write a detailed review! We value your honest feedback and appreciate your support. We have sent over an email to provide you with further details regarding warranty, and product care!
05/27/2021
CAROLYN S.

Canada
Exceeded expectations!
I love my new sofa. I added my own toss cushions to it. Much more comfortable seat than I was expecting. Images make it seem firm but it's not. Back is fairly straight up which actually works for me. Add a toss cushion if needed. Highly recommend. We had a spill and the stain came out very easily.
05/25/2021
william k.

Canada
Awesome
My couch is perfect.
05/23/2021
Kayla T.

Canada
Perfect!!
Great quality. Comfortable and the perfect size for our room. It's not too bulky but provides a lot of room when sitting/laying down.
LOVE MY LOFT SOFA
I love my Loft sofa. It's clean and tidy. There have already been a few spills that were spot cleaned easily. I was pleasantly surprised that the seat cushion is not too firm, lots of cushion to it and I added toss cushions to go with my rug. The arm height is also just right too for me. Thanks Sundays - highly recommend
We're so happy to hear that you love your new Loft Sofa and that it works so well for you and your space! Thank you so much for your thoughtful review!
Glad I found Sundays
My friend mentioned Sundays to me as I was looking for a sofa. All the sofas I liked on pinterest were super expensive. The loft was the exact style I was looking for - super clean and modern, which is hard to find a decent price point. I decided to give Sundays a chance because I heard great things and I like the overall feel of the brand. The seat cushion is a lot comfier than it looks, much less firm than expected. A pleasant surprise! I like how the back is upright and higher than the arms but I added my own toss cushions to match my rug and now i catch myself staring into my living room because the sofa has changed the entire feel and look of the room. Well done Sundays!
Wow! Thank you so much for the rave review Jason! We're thrilled to hear that you love your new sofa and really appreciate your support!